Your RPS-NODE-9258-WiFi Includes:
The RPS-NODE-9258-WiFi Remote Power Switch Unit, WiFi Antenna and a standard PC power cable to power the device. ( The 220V EURO Version does not come with a power cable. )
Units are shipped individually in industrial (OEM) grade packaging
A printed manual is not supplied. We maintain our manual online for this product to allow for updates and revisions as needed. Software downloads are also available 24/7 days per week from this site.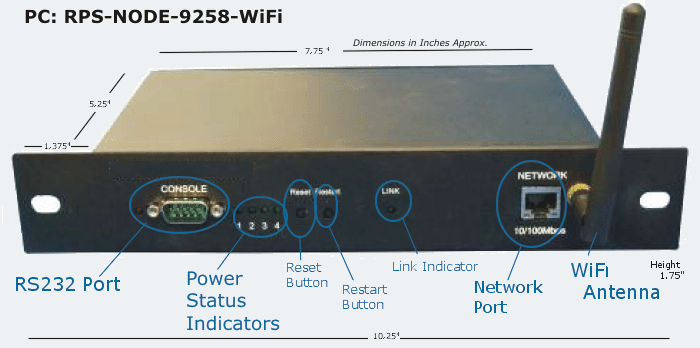 RS232 Serial Port – Allows you to read the status of the remote power switch.
Power Status Indicators – When illuminated indicates a power On condition to the indicated rear power port.
Reset Button – Depressing this button for 10 seconds will reset the RPS unit to original manufacturing settings.
Restart Button – Will power the RPS-NODE-9258 off then on for a complete system reboot.
Link Indicator – Shows the transmission status of this WiFi Remote Power Switch
Network Port – RJ45 Ethernet Port which mirrors the settings for WiFi configuration
Rear View: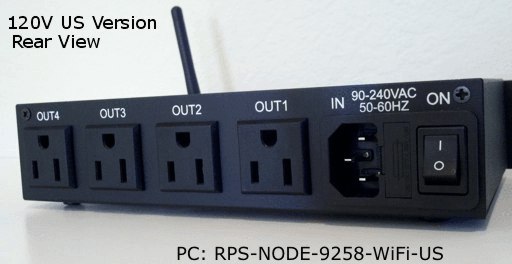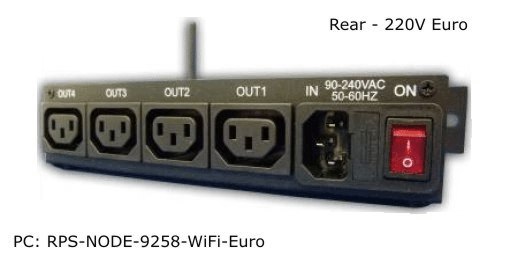 4 Output Power Ports – Each ports power setting can be individually controlled within the remote power switches web based interface.
Input Power Port – Supplies electrical power to the RPS-NODE-9258-WiFi unit
Master Power Control Switch – Turns the RPS-NODE-9258-WiFi On or OFF.
Fuse System -Is integrated with the input power port and helps prevent electrical surges from damaging the unit. The RPS-NODE-9258-WiFi comes with 1 spare fuse located inside this assembly. Fuse Type: U/C GFE 10A 250V (PF)