Description
Feature Rich Single Port WiFi Remote Power Switch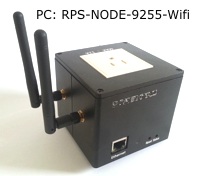 All Metal Construction, 12 AMP Max.
Individual Nodes can be placed in multiple locations on your network. These units are small, lightweight with powerful monitoring and power control options.

Product Code RPS-NODE-9255WiFi-US
$319.00 Each

For Online Orders
List Price $379.00220V Euro Versions $339.00 Each

Built In AUTO-PING will automatically reboot connected devices based on your criteria. Scheduling allows for timed power on / off.
LIMITED AVAILABILITY – PLEASE CONTACT US FOR STATUS!
The RPS-NODE-9255WiFi allows you to restore functionality to any electrical device on a ethernet or WiFi network by using a simple user-friendly Web-based GUI and an Internet browser. It can reboot, or power ON or OFF, any PC or device, running any operating system.
WiFi – Wireless 802.11 – b/g and WPS Configuration Option. Also has standard Network Port.
Access from anywhere on the Internet via your web browser using the built-in web server.
One Electrical Port on the top of the unit allows for individual power on/off control.
110-120V US, 12 Amps Maximum, 220V Euro Sockets available in 4 different types.
1 Year Warranty For Shipments to USA/Canada.
US Version Typically Ships in 2-4 Business Days, 220V Versions in 7-10 Business Days
Secure Password Access to the web interface
Command Line HTTP and Telnet control of individual power socket. Programmers can control the remote power switch within your custom designed software.
Schedule power on/off and initiate WOL (Wake on Lan)
Operating Temperature Range: 32°F ~ 140°F
Optional IR Handheld Remote Controller allows power control without login. Point and Control the Power.
Size 3.5″ x 3.5″ x 3.0″ Height, Weight Approx. 1 LB. 2 Ounces (510 grams)
The power port can be delayed through the web interface to prevent surges.
Allows you to PING a network device and upon failure initiate a reboot.
Supports power On or Off, in addition to Reboot
WEP / WPA / WPA2 Wifi Network Connections are supported.
Remote access from the internet allows reboot from any location saving costs associated with a technician going to the site. The WIFI connection allows cableless network access.
LIMITED AVAILABILITY – CONTACT US FOR STATUS !