The LED Status Lights:

The LED Status Lights indicate the telephone line status and the status of the power outlets.
1) The 2 top LED's display the power status of port 1 and port 2. A glowing amber light indicates the power is ON. The LED will be off when the port power is off.
2) The green LED below the number 2 will illuminate when a telephone call is in progress to the unit.
3) The green LED below the number 1 will illuminate when the RPS-IV is active and has power.

Circuit Breaker Reset :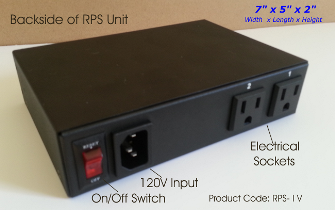 The RPS-IV has a 12 Amp resettable circuit breaker to protect against overload. Please pay special attention that the devices you have plugged into the RPS Unit does not exceed the 12 AMP limit of the device. Note that each individual port can handle a maximum of 8 amps. The circuit breaker is built into the unit. To reset, you need to power OFF the device using the switch on the back of the unit.