Change Password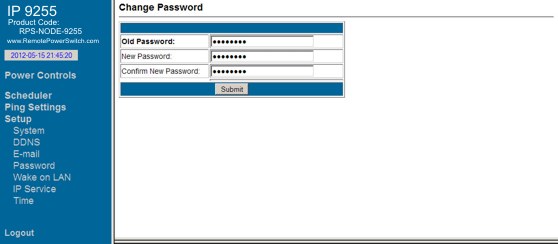 Click the Password Link on the main menu. The default user name is admin and the default password is 12345678 . The maximum password length is 8 characters. Valid Characters for the password are A-Z, a-z, 0-9. Click the submit button to update the password settings for the RPS-NODE-9255 Remote Power Switch.

If you forget your password, go to the login page of the RPS-NODE-9255 unit. Enter in a user name of super user (2 words with space) and click OK then wait a few seconds and power off the RPS-NODE-9255 using the main power switch on the back of the unit. Turn the unit back ON and the RPS-NODE-9255 will reset back to the default user name and password.
Wake on Lan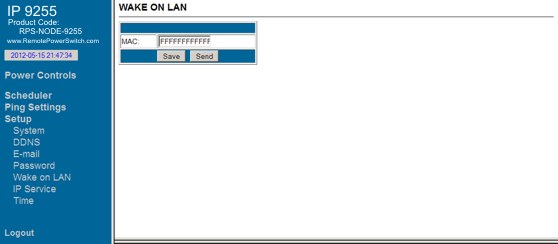 The Network Wakeup link is available and allows issuing of a Wake On Lan command to the MAC address of the network card for a computer on your network. The computer's main board must support the WOL function and have the WOL cable connected to your main board or network card. The feature and configuration is available on the RPS-NODE-9255 but it is up to the user to make sure their computer is properly configured to use this feature. Enter the MAC address, send SAVE. Click on SEND to issue the WOL command from this screen.

IP Service
Not presently in use. Look for an update to this section shortly.
Date / Time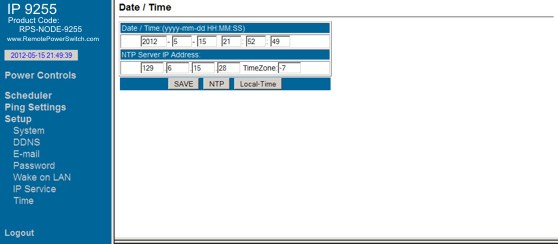 NTP: Network Time Protocol can be used to configure and maintain the time on the RPS-NODE-9255 Unit. Enter in the IP address of a valid NTP server ( Suggested value is 129.6.15.28 for a nist time server ) and the Timezone where the device is located. Enter positive number 0,1,2 for the +GMT zones and use the minus sign – followed by a number for the negative values i.e. -10. Remember to hit SAVE to store your values. Selecting local time will input the time of your computer that is accessing the remote power switch.
Logout
Click on the Logout link after you finish each session. This will ensure that no one else will be able to control the device without logging in with the correct credentials.


Previous | Next